I have 100% coverage and feel good. Just the center middle ground area is going to be in the sun. The rest of the foreground will be in the shade. This has added new excitement to me, and the painting. Tomorrow mornings clouds should provide the shade I need.
I hope I'm quick enough to catch them.
Clouds are our friends, but they are fickle friends.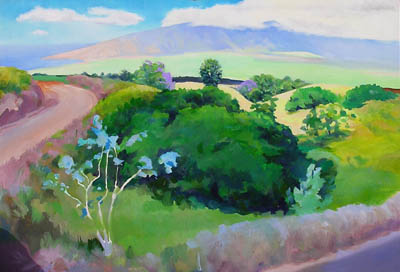 I was here bright and early for the deepest shadows. Meet a man 90 years old out for a walk. Painted in the shadows fast and furious. I know I'm not finished, the excitement of capturing this view is captivating.
The Garret copal set up nicely and I only had to paint washes to deepen the colors.
Garrett Copal Painting Mediums - Clovis
Garrett copal painting mediums are hand made mediums made for the professional artist
Contact; Ron Garrett - Address: 1616 Claremont, Clovis, NM 88101 - Tel: 505-762-5167 - Email: copal@3lefties.com - Url: www.garrettcopal.com
Tomorrow I have the foreground trees to finish, the sunlit area is going to be reduced a little and I'll add some detail to the valley in the middle background