I've had a war within me between oil and acrylic painting. Out on location setting up both media was too much of a problem. Here in my studio it's not the same problem. I set up the 5 Protea still life and plan on painting it in both media. I never got to the acrylic painting.
12-20-10, I started by gessoing two 11x15 panels and drawing the oil painting in charcoal. I made this second oil painting drawing because I didn't like the cropping on the first one below.
You can see why didn't like the cropping on this first try. On the second try I painted in the background with color to have the outlines and had to wait for it to dry.
12/24/10, What a mistake that first day was. The charcoal lines are too thick because the turp spread the black and it's too dark. They are not set lines and black gets into my color, water won't touch it, Ugg. I'm painting locking all the outlines down now with color, another needless step, I should have used a light pencil or chalk drawing dusted with a feather and outlined the painting with acrylics. Or I could have painted without a drawing. Using that technique where you don't draw per si, you build up with thin washes with turp and color.
You have to start with a clean support like with water colors or egg tempera because the white support is the first color white. Now I have another 3 days to wait for it to dry. Turpentine is my only medium, I should be using my alkyd for a quick dry. I'm doing everything wrong and it's costing me time. But.. no hurry, no worry, no pressure.
These flowers die gracefully and pass onto dried flowers. One of my flowers has bent at the neck since it hasn't atrophied yet., I can't change the setup -droop and all- but I'm holding off on the acrylic drawing.
Day 1, oil, fat lines and all.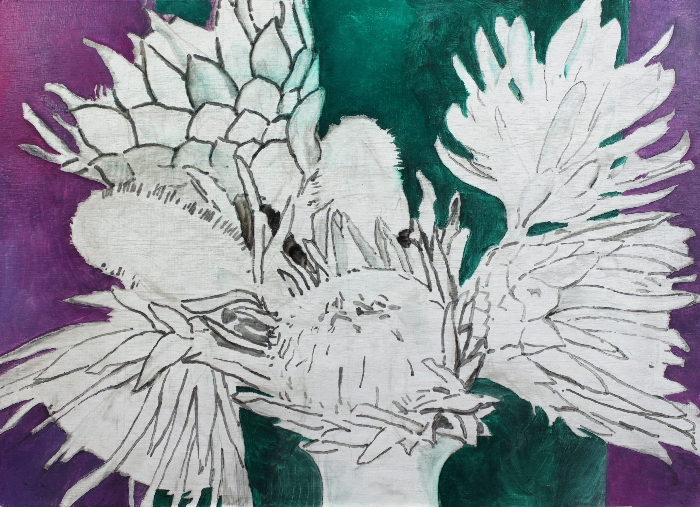 I got the painting covered with one layer of paint, perhaps I'm half way finished. My chalk lines are for the next paint layer.
From 12-24-10 jumping to 3-9-12, that's a big jump. The still life has just been sitting there, waiting for me to get back to it. It's been a test to see the changes of the dried protea. All the color is gone but the arrangement is the same. I should finished this painting up soon, but not today.
6-17-12, It's FINISHED!, now I only have "the Tree Next Door at Night" to finish (It's been a year, I know because the flowers have started blooming. Also to finish, my angle painting, and another oil portrait of a neighbor that I started last week.