These media tests were painted in 1994, they reinforce the 1995 and 2000 media ageing tests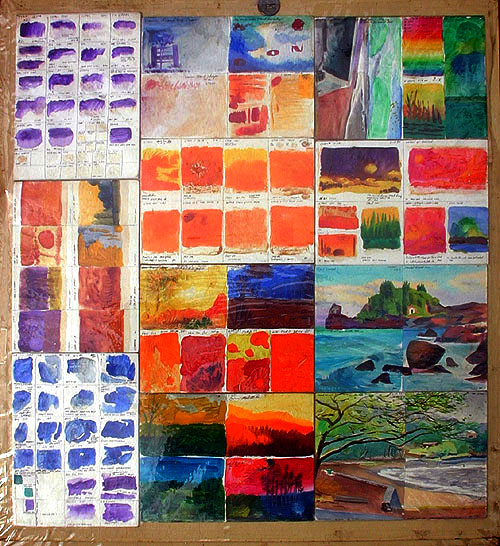 The below list of materials aged, from the clearest to yellow.
Bee's Wax, has no grab or bite and is very smooth blending. (B)
(smoothes the bite of damar, A+)

GamVar, very glossy varnish, synthetic crystals, two part mix. I never painted with it but like it as a varnish.

Weber Soluvar, synthetic varnish, painted well with wax added, (B).

Damar, has too much bite. (B)
(adds bite to cold pressed)
(1 Damar and 1/4 Wax, easy to pick-up an under-stroke, best for murals. A+)

Copal, re-dissolves like Damar while it's wet, has an oil base. (A)

Liquin, has a stringy touch. (B)

Poppy Oil,
(wet in wet work, extends alla prima painting, paints like a soft wax, B)

Venetian Balsam, sticky, tacky drag, flow-out long after the stroke. Second stroke lifts the first. Slick with turpentine. (C)
(1 Venetian and 1 cold pressed works very well as a glaze. A+)
(1/4 part Venetian, 1 part Stand Oil and 1/2 part Sun Dried Linseed Oil, 1/2 part Cold Pressed Linseed Oil, 1/4 part Turpentine, 1/16 part Bee's Wax, my choice of medium, a tough to make mix, but worth it. A++)

Cold Pressed Linseed Oil, No flow-out, too slippery, nice glaze with turpentine.
(good medium by itself, A-)
(Cold Pressed and Sun Dried linseed, A)
(1/4 cold pressed adds slippery to 1 stand oil, A)
(cold pressed and damar, adds flow to oil, B)

Sun Thickened Linseed Oil, Same aged color as Cold Pressed (settles strokes, slippery)

Boiled Linseed Oil, slippery, paints well, used by billboard painters. Reduced by hot blown air.

Stand Oil, Lifts under-strokes, too thick, greasy, self flowing, forms a wrinkled skin, very poor with driers.
(1/2 Stand, 1/4 sun thickened, 1/4 cold pressed, 1/16 wax, is an excellent medium, A+)
(stand and turpentine has some bleed over but is smooth and blendable. A-)
(2 stand, 1/8 of 1 sun, 1/8 of 1 cold pressed, 1/16 of 1 wax. A+)
(1 Stand Oil, 3/4 Sun, 1/3 Cold pressed Linseed, A+)
(Stand Oil, Venetian Balsam, Turpentine, constantly needs turpentine replenishment, slight edge bleed, needs Venetian, A)

Alkyd, Very fast drying. I like painting with it but most people can't handle the speed. It's like painting with laquer in B/C China.

Raw, today's hot extracted or Refined linseed oil. Poor.

(quote) Hi Don, in one of the 'yellowing' test the caption reads....
"That's W/N Raw cold pressed linseed oil on the top left A.
That's pretty scary !"
So, which was it? raw or cold-pressed or both? (/quote)

I think it was refined linseed oil, purchased when the change was being made. I remember I got 6 bottles of it. It was Raw. Now the results match today's results of the 1994 tests where Stand Oil and Alkyd were the worst yellow offenders.

(quote) and, I take it that you are recommending the cold-pressed as a good all around medium for alla prima? thanks
Mario (/quote)

Yes, it's good, but not by itself or mixed with turpentine, and if you are going make a medium with more than one ingredient... three is better. Add Stand Oil and Sun Dried Linseed Oil.

Permalba White stays the whitest, MG fast drying white turned the yellowest.