Hi Peiro! Day 1
Seven hours of drawing with charcoal and erasing with a chamois.
This is going to be a lot of fun. My friend Piero Resta lives here at Villa Tamiranda in Kaupo, this is his kitchen, office and dining area.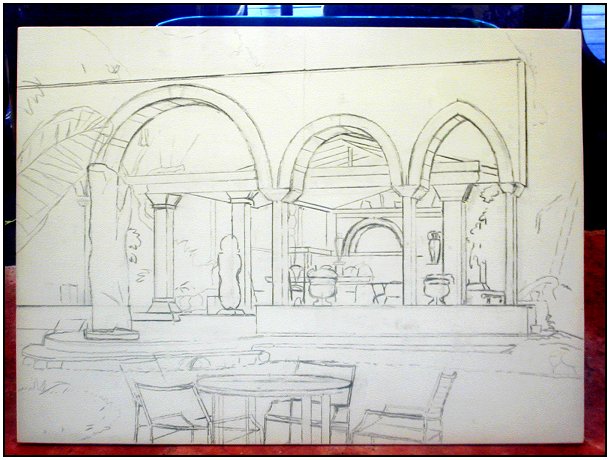 My next step will be to outline in paint all the charcoal lines with a Langnickel Series 106, Number 1, round ferrule, flat end hair, rigger sable brush.
Day 2,
7 hours working on the drawing, fixing, cleaning, covering incorrect lines with gesso.
Here is a good example of why you shouldn't leave gesso to show through as white paint. This support was in a covered box for a year and look how yellow the gesso has become. See how much whiter the new gesso is. You can see it in the center arched window.
If gesso is left uncovered and used as white paint, other white paint will look brighter eventually. Acrylic gesso is more glue than pigment.

Go to the painting's day 1, 3, 4, 5, 6, 7, 9, 11, 12, 14, 18, 22, Finished