---
Painting on Location
by Donald A. Jusko
Napili Workshop 03-03-04
Painting with Primary Colors
Linda and Dana were ready at 9:00, we are doing a 3 day workshop starting in watercolor. After explaining the real Color Wheel we painted a watercolor color wheel and neutral gray with three primary colors, Daniel Smith Indian Yellow PY108 anthrapyrimidine yellow, D.S. Quinacridone Magenta PV202 Sennelier Quinacridone Red PR122 (actual Quinacridone Magenta), and D.S. Phthalo Blue PB15:3.
Also this set of primaries, D.S New Gamboge a nickel dioxine PY153, Graham's gamboge PY110 Isoindolinone yellow, Grumbacher Thalo Crimson PV19 (the warmest magenta Quinacridone and Grumbacher Thalo Blue PB15.
These paintings were done with only those three colors in watercolor.
These are acrylics done on gessoed cold pressed W/C paper, with a full palette.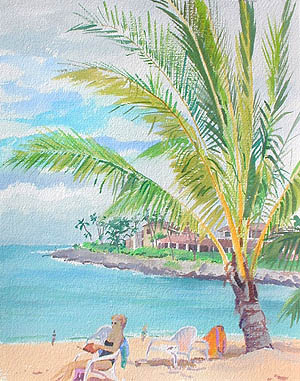 Painted with only the three primary colors in acrylic.
---
These links are to other 3 primary color paintings, my pigments are:
Dry Pigments;
Indian yellow PY153 from Zecchi,
Magenta PR122 from Sennelier, called Quinacridone Red 679, PR122
Cyan PB15.3 from Senopia.
Food Coloring
The Easter Egg Coloring 6-pack.
Oil Paints,
Old Holland Indian Yellow Orange-side PY153
Daniel Smith Quinacridone Magenta PR122,
Grumbacher Thalo Blue, cyan PB15
Water Colors,
Daniel Smith New Gamboge, PY153 Nickel Dioxine Indian Yellow O/s pigment.
Daniel Smith Quinacridone Magenta PV202 is more to the cyan side.
I don't know why D.S. won't use the most stable and magenta color matching pigment PR122 (36RCW#13) in their watercolors, other suppliers do. Is it because they have to pay to use Sennelier's color PR122 and that yanks their chain?
Grumbacher Thalo Crimson PV19 is more to the warm side and less permanent.
Grumbacher Thalo Blue PB15.3
Children painting with Food Coloring Colors First Grade learning the primary colors.
3 color examples Mixing the three transparent primary colors.
Lime Water Media 75 sq. foot Buon Fresco in 3 colors.
Lime Water Medium Buon Fresco #1 in 3 colors.
Lime Water Medium Buon Fresco #2 in 3 colors.
Maroger Medium Hana Paintings with Maroger's Medium in 3 primary colors.
Maroger Medium The Kaupo Hearts, Black Oil painting in 3 primary colors.
Egg Tempera Medium Still Life in 3 primary colors.
Water Color Painting with 3 primary colors.
Copal Medium with the RCW 3 Color Wheel
---
NEXT Join the PoL Color Forum, forumpaintingonlocation.htm
PREVIOUS WORKSHOP kiheiworkshop1.htm




Order this complete color course on DVD, $35.00.
5"x5" Laminated Real Color Wheel $10.00.