Page #2 of Little Salmon River Fresco.
7-9-4, 9:00 AM, Giornate #5, start wetting the wall and making preparations.
12:20 PM. Put the gloves on, make some crushed limestone 1:1 lime intonaco. Make a slip and use a square sponge or brush to apply it on the wetted giornate area. Cover every centimeter including up the cut edges. No sand on the old area overlap, lime only.
Keep the un-laid area wet with spray and wait for the water to absorb. First coat, Lay in the giornate edges first. For the intermediate 2nd intonaco coat, lay a thin smooth intonaco the hight of the small grit all over. Press this second layer in to remove all possible water. Lay third finish coat of intonaco mortar.
TIP: Don't use the rising lime pressed out the mortar's aggregate to fill depressions while you are smoothing, it will shrink, you will still have the depression and it can chip off.
TIP: Allow a little lime to overlap the previous giornate's cut by at least a 1/6th of an inch, no sand in the overlap. The fresh lime will adhere and can be colored and completely hides the joint.
3:30 PM, giornate #5 laid, 3 hours, 35"x17". I'll be using limewater as the medium. PR122 quinacridone magenta, PY150 (same as) PY108 nickel complex Indian yellow and PB15 Phthalocyan as the primary triad. I've added Naples yellow and PY35 cadmium yellow lemon zinc sulfide. The first three giornates will show it is possible to make these added colors with only the original primaries. I didn't need the Naples yellow.

The brushed on intonaco slip coat.

The transparent plastic cartoon in place over the finished intinaco.

4:30 PM, The lines are scribed on, the giornate is ready to have it's edges cut.
5:45 PM, I painted over the scribed lines and troweled the giornate smooth again. This is the best and least time consuming way to transfer patterns and lines if you don't pounce the lines. Michelangelo didn't have clear plastic to work with.

11:45 PM, six hours, finished, love that hog bristle, used up, fitch oil lettering brush. That was a 15 hour day on giornate #5.
Preparation = 6 hours, laying = 3 hours, painting 6 hours.
---
7-10-4, Giornate #6, lime 1:1 crushed limestone.
12:00 PM start wetting wall with a new one gallon lawn and garden sprayer. The only way to go! Today I'm going to do a giornate half the size as yesterday's, this is 35"x15".
TIP: Wash your brushes first in alcohol, it breaks down acrylic media, synthetic pigments and lime. Vinegar will also break down lime. Wash your brushes in soap and water secondly.
If you want to prove this to yourself, wash out a fine grain synthetic pigment in soap and water then in isopropyl alcohol and see the build-up you missed.
Here is a comparison of the color of the wet lime and with different aggregates. First 1:1 lime and crushed white lime or white marble, than 1:1 Lime and small white sand, than 1:2 Lime and tan sand.
This is important since the wet mortar's surface color effects your transparent pigments while wet.
There is no need to have to think of a toned background as white. Start with the whitest aggregate you can find. Find white crushed limestone, white marble 'meal' or small white sand and mix your paints.
TIP: Wet the brush and shake it out, fully load the brush with your paintable consistancy of lime. Add pigment to turn the lime into that new pigment's translucent color and add titanium white to the tint you want it to be dry.
The ancients couldn't do that because their color system was based on lead white which turns brown in lime as do all other white minerals. So, tinting with titanium white after saturating the pigment with lime is the final buon fresco color.
These photos show the colors of mortar wet and dry. Small white sand is on the bottom right of the top left photo, and bottom board.
Each mortar is now white, so use the whitest aggregate to paint on.
This is IMPORTANT. Crushed limestone made a much stronger dried mortar then either small white sand or large grit sand.
---

Giornate #6
5:30 PM, I'm ready to start, the wall has been kept wet since 11:00 AM. First I'll put on the the gloves and protective glasses then apply the wet intonaco slip with a brush.
5:55 PM, finished applying slip coat.
6:40 PM, finished the thin second wet intonaco coat with a trowel and made a Pronto Intonaco bucket for the next few giornates.
TIP: Remember, lime and water don't mix, lime just uses water to suspend itself. The water floats on top of lime. Water just spreads the lime out and gives you a less lime concentrated mortar and spreads the sand out less compactly because the lime is expanded. Those components together make a weaker mortar. Take a ball of slaked lime and squeeze some water from it. The wall holds this water a long time under the carbonate crust. You can remove this crust, re-lay the surface and still bond and paint into the moist lime.
As you are adding pressure to the giornate's final surface while making it smooth, wipe your trowel clean if it gathers pure lime paste. This will make the mortar stronger since lime is the weakest link.
The lime I'm using to add to pigments is from Zecchi, it's a whiter white and very strong lime.
9:15 PM, Transcribed, here is the cartoon in place.
This giornate was attached to the slope beveled edge of the previous giornate, it's not 45 degrees, it's variable. It's harder and takes more time to level out the surface, but the end result may be this flawlessly transitioned painting area and color. Paint on any thin overlapping lime.

10:15 PM, Here's some of the first strokes and half way finished.
11:00 PM, basically I'm through with the soft wash brushes and onto the bristle brushes, 2nd photo. 100% coverage, now I'm getting somewhere. The rest is big lights loaded with lime and darkest darks.
It's hard to describe how useful my goose feather is for cleaning up, brushing off loose sand and dust off my working area. Cleanliness is number one, that's what took me so long to get started today. The little baby geese are almost as big as their parents now. How time flies.
12:40 AM, finished giornate #6. I trimmed off the excess mortar beyond the cut line and wet the brown coat again up to the new giornate. I'll wet everything again when its safe, maybe in another 20 minutes. Love my new pressure sprayer.
Compare the total times of two different size giornates.
Giornate #5, Preperation for this pie shaped 35x35 giornate = 6 hours, laying = 3 hours, painting 6 hours. Total hours = 15 hours.
Giornate #6, Preperation for this pie shaped 35x15 = 5.5 hours, laying = 1.1 hours, painting 4.5 hours. Total hours = 12.5 hours.
---
A wooden stand alone frame to hang the transparent cartoon would have been nice.
I opted to have the mural go to the ceiling and for the ceiling molding to go over the mural. I should have used a false and removable tacking board in place of the molding, and used it to hang the cartoon in place.
---

7-12-4, Giornate #7, lime 1:1 crushed limestone. 10% smaller then giornate #6.
9:00, wetting the wall with my new pressure sprayer. I can make water flow down the wall, which it is supposed to do.
12:00 noon, Here's the brown coat and the intonaco slip applied.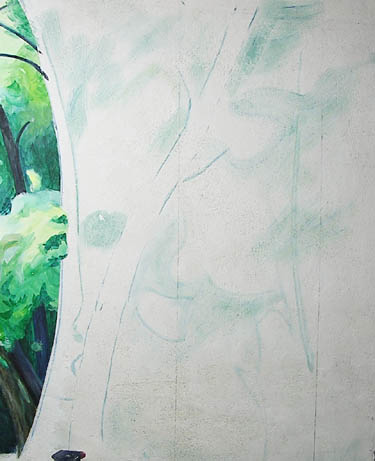 Here are the second and the third layers of intonaco.
1:00 PM, finished the second layer of intonaco and got all the edges. When you get lime on the paint of an adjacent giornate you have 10 golden seconds to remove it cleanly. Any lime that is pressed into an adjoining giornate can be painted and it will hold color.

When you take mortar out of your pronto bucket after spilling out the lime water, blot it on paper towels to remove any excess water.
2:45 PM, laying giornate #7.

Within an hour I'll transcribe the cartoon and cut the edges. Right now I'll set up my palettes. One for transparent and one for opaque. The opaque palette is just titanium white spread out so I can always find an untouched spot to make a tint plus a place for lime paste. Both Palettes are different sized butchers trays.
TIP: This is definitely the physical pallet of choice. Don't get sand in your palette. Strain of floating carbonate from your limewater with a coffee paper strainer placed in a 5 inch, hand held strainer. Strain all your plaster before adding sand with the same strainer, just fill it and tap it on the topside of the bucket.
TIP: Use a turkey baster to remove small supplies of limewater, it gets the clean limewater that's under the floating carbonate.
4:30 PM, finished the add on. I put up the cartoon and realized I had changed it from what the wall was drawn to and had to add a new area at the bottom.
5:30 PM, transfer the cartoon with a ballpoint pen through the plastic. Now I'll take a spoon and a blade with me and remove one side or the other of the scribe line.
6:30 PM, finish with adding bas-relief to giornate. I wish I had just gone over the scribed lines with paint and smoothed them all over.

7:36 PM, a 'V' cut is made at the edge, one side is your smooth giornate cut, the other side is holding the same amount of water in the excess intonaco. This gives a more equal working time all over the giornate by keeping the Brown coat moist.
I'm using my normal primary and secondary palette in this giornate. Green and magenta opposition colors. Royal blue or Senopia's Ultramarine blue and burnt umber are also dark complements (brown is dark yellow, yellow is the opposite of blue) used for morning painting. Complement pigment color link.

8:30 PM, 100% covered, to me that means everything has at least one coat paint and I'm half way finished..

9:30, almost finished, 3 hours painting, 6 hours getting it ready to paint, 3 hours wetting the wall. 11 hours 30 minutes total.
10:40 PM, I'm finished with the soft hair brushes. Now for the 3/4" fitch bristle, lime paste and pigment.
Ha.. I made 2 strokes with the bristle brush, using lime and pigment. I put two colors on the brush for one stroke.
11:10 photo
---

7-14-4, 4:00 PM, Giornate #8, 1:1 lime and crushed marble, using the primary and secondary colors of the Real Color Wheel. I took two days off painting to catch the computer up.

5:15 PM, start slip coating, the wall has been wet all day.
8:15 PM, the top layer is on, I have to wait before adding pressure to the surface.
I'm thinking of a plastic cover for the night and finishing tomorrow.

9:20 PM, I taped plastic wrap over the whole giornate. Tomorrow I'll spray the whole surface and press it down. If I wait two days I would have to remove the crust with a sea sponge.
7-15-4, 9:00 AM. Good morning world! I feel fine. First thing I took the plastic wrap off the giornate. Try, real hard, not to let the tape touch any painted surfaces, the paint comes with the tape. Press on some new lime only over the area. I had two small white tape spots, no problem, mainly because I'm keeping the whole mural wet and added some lime paste to the area before repainting it.
I used my homemade plexie glass blade trowel. After wetting the wall twice I smoothed it down, it really smoothed down well. When it's dull again I'll transfer the cartoon, go over the lines with pigment and press it all smooth again. 10:45, Use limewater to keep the intonaco wet. I'm keeping it moist.
Yesterday I made some lime water. 2 quarts of wet lime and a gallon of water in a 5 gallon bucket. Today I poured off the limewater. 24 hours later and all the lime had settled to the bottom.
11:45 AM, finished transcribing cartoon and smoothing the cut edge.
The vertical board on the left has the rest of the cartoon wrapped on it.

12:10 PM, lines scribed, painted and pressed out. Another lime water spraying.
1:30 PM, 100% coverage. I've used a 1.5 hike goat brush so far. Goat hair is softer then pig hair and doesn't move the surface.

I'll finish up with a soft hair brush going over the darks and a 3/4 inch bristle fitch brush for the rest. The fitch points to a 1 inch flat end and is stiff. Mix the transparent pigment with lime paste and add titanium white for the tint you want. This stiffer brush will move the surface and paint very much like an oil paint impasto.

2:30 PM, finished giornate #8. Lime water is an amazing part of lime. It can break through the crust quickly if there is any. Keep the fresco misted with limewater, it will keep the surface active and powerful.
I already did a test between lime water and plane water with pigment on wet lime mortar. Don't underestimate the difference between lime water and plane water, one works, one doesn't.
---

Here are the tools needed to work the fresco mortar, minus the hoe.